Today's blog post about side hustles isn't going to be your traditional post where I say "Ok you can do door dash, you can do Uber, you can do Lyft, you can get an evening job!"
Nope. There are plenty that cover side hustles you can do. My goal is to open your mind a bit to creative hustles you could start in your own life.
I am by no means a side hustle expert, nor have I made a boatload of money doing side hustles. But I've tried my fair share and want to share some of the more uncommon ones here.
This blog post will have 3 parts. First, I'm going to tell you the 5 relatively unconventional side Hustles I've had. Second, I'll give you 5 points to consider when starting up side hustles of your own. And third, I'll tell you the next 6 side hustles I am either in the process of trying or will try in the short term future.
Let's get into it.
1. Mowing Lawns
This was mostly a side hustle I did for family. Before my dad retired, I, along with my brother, Josiah, mowed the lawn for him for years.
We also mowed for a neighbor for a couple years. It made for a pretty good summer hustle. This has normally garnered $300-$800 per year depending on the year and who we mowed for.
2. Selling Firewood
We lived on a farm growing up where there was almost an unlimited amount of firewood. Josiah and I started out using a sledge hammer for our business but then upgraded to a log splitter with my dad and sold firewood for a time.
They still do, I'm just less involved because YouTube and blogging takes all my time!
I wasn't good at tracking the finances on this one but we did fairly well in terms of hourly rate. People love to have fires on their back patio where we live.
3. Wedding Videography
This has been the most profitable side hustle for me.
I started videography back in 2011 when I got my first camera. I loved it so much I began filming weddings with a friend and it's grown a bit from there. I tend to do only 1 or 2 weddings a year and will make about $40 an hour while filming and about $25-$30 an hour while editing.
4. Real Estate Drone Photography
I love flying drones. I think it has to do with getting a perspective that's unique.
So, when I bought a drone for the fun of it, I turned it into a side hustle for real estate drone photography. I got some flyers, had them put up in a local real estate office and have done about 10 jobs since.
It's been a fairly good hourly rate of $30-$40 an hour because I just take the pictures and videos and do some simple edits before delivering to the realtor.
5. Making Vinyl Decals
This is a hustle I started late last year. I'll design a decal that I like, then post it on Etsy for purchase. I'm still working out how to be more efficient with my processes but I have done $144 in sales of these unique stickers.
And I'm working on a honey label design for a guy that makes his own bourbon barrel honey in our area.
Yeah, this is a pretty wide range of side hustles!
There's one thing that they each have in common though — I really enjoy each of them.
Mowing the lawn and chopping firewood is a lot of manual labor but I love being outside and getting some fresh air in my lungs. Wedding videography is so much fun because I get to see the emotion of a bride and groom as they remember their big day. And I just love flying drones. The fact I can make money at it is a bonus. The vinyl decals are probably the weirdest hustle I have, but as someone who prides himself on his quirky humor, designing these stickers has been a lot of fun.
So, having said all this, let's look at what you should consider when getting a side hustle up and running.
Questions for choosing your own side hustle
So, here are the top things I believe you should consider.
What are the things you love to do? This is seriously the number one because 70% of people spend their lives working in jobs that they don't find fulfilling or engaging.
What we don't want is for you to take on a side hustle in your evenings and weekends, even though you don't enjoy it. I'd hate to think of you coming home from a job you don't like to do a hustle you don't like.
What physical resources do you have? Lawn mower? Snow shovel? Camera? Is there something you are particularly knowledgeable about and people come to you for advice?
What opportunity has the most profit potential? Do some research into any ideas you have. Is anyone else doing them? What kind of demand is there?
Chris Guillebeau is THE side hustle guy. I've read several of his books and listened to his podcast on the topic. He says that any side hustle you have should make you more in hourly rate than you do from your main job. Now, I don't think that's a deal breaker necessarily, but it's a great goal to shoot for.
What can be turned into money the fastest? This seems similar to the last one but it's not. The two most profitable side hustles needed me to purchase a camera and a drone and find clients who may not need me immediately. There are things you can do to make money as a side hustle faster than others. If you're on track for a horrible tax season, you may want to find hustles that less time to get up and running.
Don't be afraid to just start. Maybe delivering groceries or giving drunk people rides is something you do enjoy!
Remember that my examples weren't intended to be a list you could just pick from and start making money at today. You absolutely can, but most of mine actually have a higher capital investment than most side hustles need. These were just intended to provide some inspiration for ways you can turn some ordinary things into some cash.
6 Side Hustles I'm Working to Build
1. Blogging
I've had this blog for several years. I used to write posts focused on personal growth, then late last year I began to focus on personal finances. So far I have made a whopping $0.38 from the blog!
So, uh, less than minimum wage.
This is something I plan to continue posting on and my hope is it turns into another stream of income that is maybe more than a dollar per hour!
2. Selling eggs
Bailey and I just got some chickens recently! Bailey's always wanted them so it's more of a fun addition to our home. But, they do provide eggs. What we'd like to do is sell the eggs we don't use and at a minimum pay for the feed.
Maybe not so much a side hustle and more of a hobby with a goal to make it financially sustainable.
3. Airbnb
Bailey and I want to get into the hospitality industry and open our own Airbnbs to give people a unique lodging experience here in central Ohio. We're really excited about the ideas so far and our plan is to open up our first one in 2022. More details to come. 🙂
4. YouTube Monetization
The personal finance videos I make for my YouTube channel take a ton of work! I love making them but my goal is to ultimately turn this into a side hustle this year by monetizing my channel.
This means garnering 1000 subscribers and 4000 hours of watch time.
Got a little ways to go. If you'd like to check out the channel, click here!
4. Candle making
Sounds like a weird one but I got into this because of the stickers I make. I thought, hey, I can make fun candles with funny labels since I make stickers!
I'm still exploring this one. I know people sell candles on Etsy for anywhere from $8-$25. Last night though, I actually got my first candle up on Etsy! Check it out here.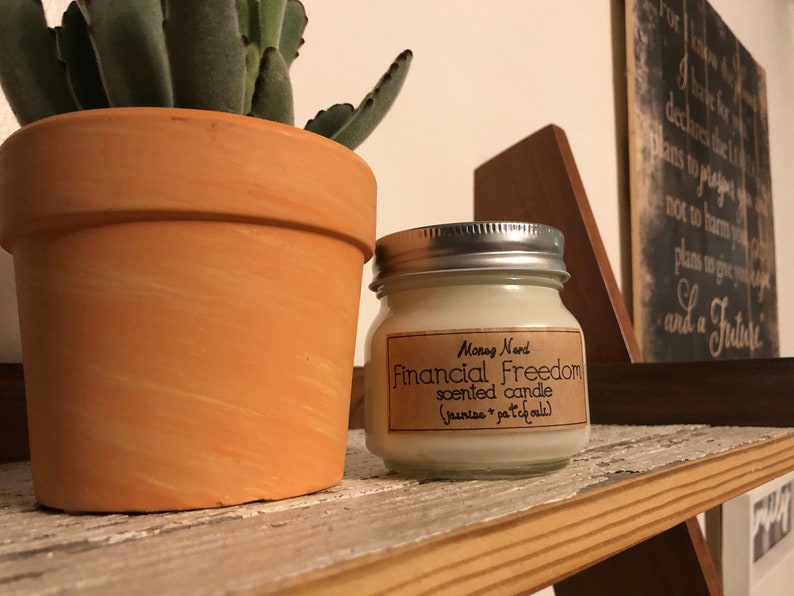 6. Financial coaching business
This is number 6 on the list but actually my number one. I love helping people understand money and budgeting. That's why I started this blog and my YouTube channel.
Both were made to help with content creation for my financial coaching business. Ultimately, if I could turn this hustle into a full time gig, I'd be a happy man.
Conclusion
So what do we take from this?
My hope is that you can see there are nearly endless ways to make money on the side. But they might not all be perfect for you. The main 4 things you have to keep in mind are these:
What do I love to do?
What physical resources do I have?
What skills do I have?
What is profitable?
You hit the sweet spot on these questions and you've got your hustle.
So let me pass this question onto you — why do you want to start a side hustle? I want to hear from you in the comments down below!
Like what you read (or watch)? Give the blog a follow in this little box below.
Get Financial Coaching
Are you overwhelmed by debt and feel like there's no way out? Feeling intimidated by budgeting?
I can help! I'm a financial coach trained by Ramsey Solutions to guide people in their financial lives. Set up a free consultation below and I'll listen to your situation and guide you on the right steps forward. There's no commitment.